Engine Maintenance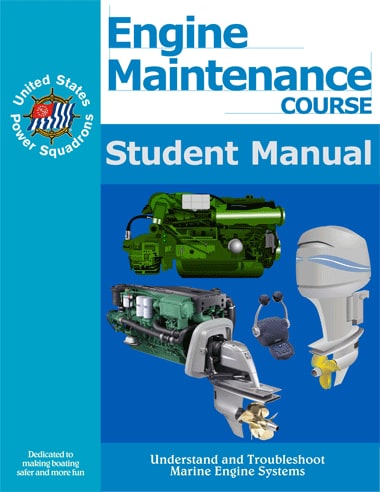 Course Description
The Engine Maintenance course stresses the diagnosis of modern systems, while also teaching the basics of engine layout and operation. Gasoline inboards, outboards, and diesel engines are taught in a way that reinforces the common aspects of how engines work.
What's Included?
Regular Maintenance
Problem Diagnosis
Drive Systems
Steering Systems
Engine Controls
Interim Solutions for gas, diesel, and outboard engines
This course is usually completed in 10 two-hour sessions: eight sessions of study, one session of review and one session for the exam.
You must have the USPS Engine Maintenance book in order to complete the course.  Only one required per household.
Engine Maintenance Course Costs
Tuition must be paid during class registration via PayPal or by check / cash prior to the start of the class.  Books and other materials should be purchased during registration, or may be available the day of the class.  Supply of optional materials cannot be guaranteed if not ordered during registration.
| | |
| --- | --- |
| Course Tuition Fee (one required): | |
| USPS Members / Voucher | $40.00 |
| Sea Scouts / USCGA / Partners | $80.00 |
| Public | $160.00 |
| Engine Maintenance Book (one required per household) | $68.00 |