Weather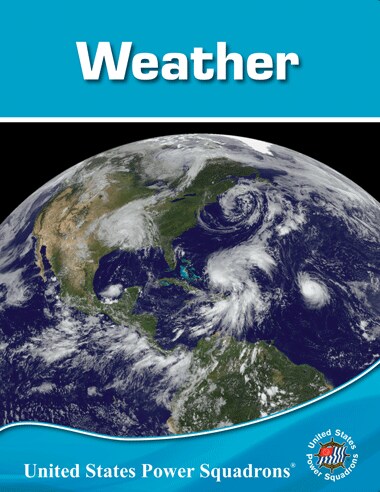 Course Description
The safety and comfort of those who venture out-on-the water have always been weather dependent. In this course students will become keener observers of the weather, but weather observations only have meaning in the context of the basic principles of meteorology — the science of the atmosphere. The course focuses on how weather systems form, behave, move, and interact with one another and reflects the availability of all sorts of weather reports and forecasts on the Internet. Wx2012 is a general weather course benefiting those sitting in their living rooms, as much as those standing behind the helm.
Each Student Receives:
Weather Manual - USPS Weather
Set of three Daily Weather Maps
NOAA's Sky Watcher Chart
The Weather Course is designed to be conducted over ten two-hour sessions including time for review and the multiple choice closed book exam.  You must have the USPS Weather book in order to complete the course.  Only one required per household.
Weather Course Costs
Tuition must be paid during class registration via PayPal or by check / cash prior to the start of the class.  Books and other materials should be purchased during registration, or may be available the day of the class.  Supply of optional materials cannot be guaranteed if not ordered during registration.
| | |
| --- | --- |
| Course Tuition Fee (one required): | |
| USPS Members / Voucher | $40.00 |
| Sea Scouts / USCGA / Partners | $80.00 |
| Public | $160.00 |
| Weather Book (one required per household) | $85.00 |